What Is Topic Talk?


Mommy Gossip—GNO parties follow a theme. We choose one or two items to discuss in case we ever run into a the proverbial lull in the conversation (yah! right!). Participate in Topic Talk by posting about Tuesday's Twitter Theme on your blog.

How Do I Participate?


Get in on the gossip each week by signing up using Mr. Linky, which will be posted the day after the event. Include your name and your blog URL. Make sure to leave a little gossip for us by way of a comment and click on the other participants to see their Topic Talk. We are not assigning a specific day for this fun feature. Feel free to post about the topic any time before the next GNO.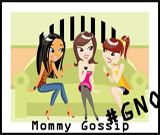 Note: This is not intended to replace
Wordful Wednesday
,
Wordless Wednesday
,
Thursday Thirteen
, or
PhotoStory Friday
, but rather to compliment them. Feel free to use your Topic Talk as its own post or in conjunction with one of the other carnivals. Before you do, grab our button, put it in your post or on your sidebar, and show your true gossiping colors to the world!