What Is Topic Talk?


Mommy Gossip—GNO parties follow a theme—a topic to discuss in case we ever run into a the proverbial lull in the conversation (yah! right!). Following GNO, we encourage GNO Gals to post about the party's theme and sign up for a chance to be one of 25 great GNO Gals that are selected and featured here for the five days following GNO!

How Do I Participate?


Sign up using Mr. Linky (posted during GNO each week).

E-mail us in advance at mommygossipgno AT gmail DOT com. Include your name and a link to the blog post you'd like us to feature.


Spread the gossipy goodness about Topic Talk by including a Mommy Gossip—GNO link or our button in your post or sidebar.

Click on the other Topic Talk participants and comment on their blogs.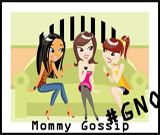 Note: This is not intended to replace
Wordful Wednesday
,
Wordless Wednesday
,
Thursday Thirteen
,
PhotoStory Friday
, or the other memes but rather to compliment them. Feel free to use your Topic Talk as its own post or in conjunction with one of the other carnivals.